2012-01-04
AMDA Working with Local Partners for the Victims of Mindanao Typhoon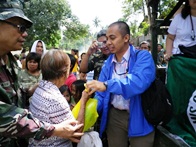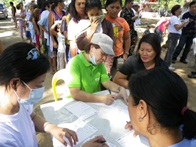 According to the report of Dec. 26th issued by the National Disaster Risk Reduction Management Council, the death toll from the recent Mindanao Typhoon has now risen to 1,236 and more than 1,000 people remain unaccounted for. The number of evacuees is said to exceed 108,000.
The AMDA team made up of members of AMDA Headquarters(Japan) and AMDA Indonesia has been collaborating with the Armed Forces of the Philippines (AFP) since their arrival on the 21st. On Dec. 22nd, after their arrival in Cagayan de Oro they carried out damage assessment which was followed by mobile clinic services and distribution of needed goods.
On Dec. 24th, AMDA carried out mobile clinic services in Iponan, Bulao, Balulang and North City Central. AMDA was joined by local volunteer doctors and members of Philippine Nurses Association in addition to the AFP team. Together they saw 3,875 patients. Many of the patients complained of respiratory symptoms. Cases of high fever combined with cough were prevalent among children. Second on the list of symptoms was skin diseases followed by external injuries and infection of the lower extremity. A few cases of diarrhea were also confirmed. Local hospitals are functioning but the financial problems hinder patients to seek medical help. As a result some of the patients' leg injuries started to show some signs of deterioration. The doctors said that in many instances what these people need most are psychological care and nutritional aid such as vitamin tablets. The longer people stay at these evacuation camps, the greater the risk of diseases they will be exposed to.
At Bulao, a classroom of a local elementary school has been serving as an evacuation center. AMDA held a hand hygiene session to these school children using fun material for the young. Besides mobile clinic series, AMDA offered blankets, rice and canned food to the affected people in Iponan and Bulao. In Tibasak, which received the heaviest damage from the typhoon, blue sheets, nails and wire to make temporary roofs and floors were distributed.
On Dec. 25th, members of Philippine Medical Association set up temporary hospital at St. Lourdes High School in Macasandig. All doctors wore Santa Claus red hats and coupled with the other Christmas events the evacuation center was filled with warm and happy feelings. There were more than 100 doctors and the patients they examined totaled 1,775 patients. AMDA donated medical supplies to Philippine Medical Association and relief items to the affected population.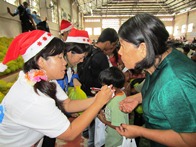 On the 27th, AMDA Philippines left Manila for Cagayan de Oro with necessary medical supplies. AMDA Philippines is joined by doctors of emergency medical team of Radio Station DZRH. The 15-member team is expected to stay in the disaster affected area until Jan. 2nd and plans to implement mobile clinic services for 4 days.