2012-01-20
AMDA Completed Three Missions in Mindanao
As per our earlier reports AMDA has launched three emergency medical relief activities in a row for the victims of the Typhoon Sendong that swept across the Cagayan de Oro and Iligan region of Mindanao in southern Philippines. According to the local authorities in Cagayan de Oro, still there are about 600 people missing. Following the first mission for the Mindanao disaster AMDA conducted two more medical missions in the Mindanao Region. The second mission was held from 29th Dec. till 3rd of Jan. 2012 and the 3rd mission from 13th Jan. till 16th of Jan. 2012.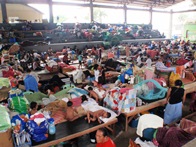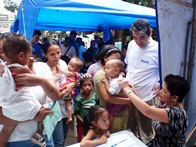 As part of the second team the vice president of AMDA Philippines went to Mindanao on the 29th of January. He joint with local medical organizations such as Philippine Academy of Family Physicians and conducted mobile clinics at the following temporary refuge camps:
West Central School: consisting about 1300 families
Camp in Bonbon town: consisting about 450 families
Iligan area: consisting about 2800 families
Apart from mobile clinic AMDA also provided feeding program for the children along with other relief goods such as food and non-food items. According to AMDA Philippines there were many cases of cough and some cases of leptospirosis in the region.
As part of the third team the president of AMDA international and the director of Emergency relief flew to Manila on the 12th of Jan from AMDA HQ. They joint AMDA Philippines and travel to Mindanao on the 13th of January and conducted mobile clinics in Mindanao and Iligan region. About 25 local medical staff from the Philippines Academy of Family Medicine took turn and joined the Mobile clinic in four different places over the period of four days.
13th Jan.: Macasandig city center, Cagayan de Oro (CdeO),
14th Jan.: Maktibasac area of CdeO.
15th Jan.: Iligan city
16th Jan.: Mandumul area of CdeO.
The team provided services to 523 patients in total for the 4 days and most of the patients were women and children. Out of the total number 40% were male and 60% of them were women. Young children and mothers counted more than 70% of the total consultations.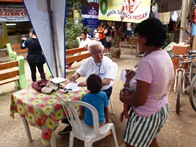 Most of the complaints from the patients were common cold, cough and flu, which counted about 75%-80% of the total. Other complains were such as headache and body pain, skin allergies, Upper respiratory Tract Infection etc.
At the end of the mission AMDA donated 8 boxes of medicines to the Philippines Academy of Family Physicians of the Cagayan de Oro and Iligan branches. AMDA concluded the Emergency Mission by providing appreciation certificate to acknowledge the dedication and service provided by the medical staff of the Philippines Academy of Family Physicians.