2012-02-29
Securing Clean Water for the Victims of Mt. Merapi Volcanic Eruption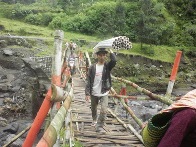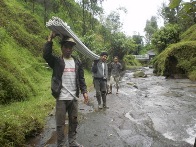 Mount Merapi, nestled in the densely populated area of central Java, Indonesia, is one the most active volcanoes in the world. On Feb. 14, more than a year after its deadly eruption, YKP Surakarta, AMDA's local partner organization, implemented follow-up measure in the village of Klakah, Boyolali, located 3 km from the summit of Mount Merapi. This was in response to the local request for assistance in maintaining village's waterworks facility. YKP Surakarta with the funding from AMDA procured 350 water pipes, 12 assembly parts, 20 bags of cement, 4kg of wire and 5 pieces of adhesive. Two trucks were used to transport these goods to the village. The transport faced difficulty because of the bridge that had collapsed by solidified lava in the aftermath of the eruption. The villagers came to assistance by carrying the supplies themselves across the river.
The goods were officially handed over to the leaders of the village. The supplied items would be used to maintain the village's waterworks facility securing clean drinking water for the community. The village mayor issued letters of appreciation to YKP Surakarata and AMDA.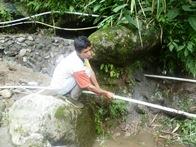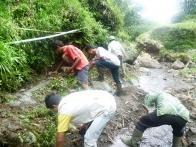 The construction work for community water system in Klakah village was conducted by local residents on 7 and 8 March 2012. Residents took turns working. They joined the construction work after doing their daily work. This way, no one made a sacrifice of their daily work. To deliver the clean water, people set up a water tank near the river and connected 350 water pipes to the site in the village. The distance between the village and the river was 1,500 meters. The construction work was finished within two days. After the construction, clean water began to flow down to Klakah village. The water is now used by 159 people (80 male and 79 female, 37 families in total). On behalf of Klakah village residents, Supomo said that Ź™®Ź™≠We very gratefully acknowledge the support of water pipes, cement and other needed materials. It was so hard for us to reach this water before."