2012-04-19
Presentation Ceremony of Autoclave and Handpiece Used for Cataract Surgery from TaiwanIHA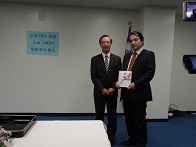 AMDA and TaiwanIHA (International Health Action) exchanged an MOU in March 2009. TaiwanIHA and AMDA jointly organized a free cataract surgery project and operated on 134 patients in Northern Sri Lanka in August 2011. The project took place at Jaffna Teaching Hospital in Jaffna, Sri Lanka, a devastated area after more than 25 years of civil war that ended in 2009.
Seeing the local condition through this joint project, TaiwanIHA had kindly offered to donate the medical equipment for Sri Lanka. The ceremony was held on April 18th, 2012 at Taipei Economic and Cultural Representative Office in Tokyo. The autoclave and 2 handpieces for cataract surgery were donated from the Deputy Representative of Taipei Economic and Cultural Representative Office Mr. Koon-tsan Lo to the president of AMDA Dr. Shigeru Suganami.
Many representatives from Taiwan were present at the ceremony. Mr. Lo kindly explained the relationship of TaiwanIHA and AMDA to the attending guests, wishing for further growth of the joint project. From AMDA, the Director of AMDA International Medical Information Center Dr. Yoneyuki Kobayashi, two translators, two people from AMDA Kamakura Club, and AMDA HQs staff members were present. During his speech, Dr. Suganami thanked the generous support from TaiwanIHA and had promised to conduct future activities that can carry a clear message of kindness from Taiwan.
The donated medical equipment will be taken to AMDA Sri Lanka by AMDA HQ staff member to the Sri Lanka Chapter Chairperson, Dr. Samarage who is currently a national consultant for WHO and a former Deputy Director of the Ministry of Health. AMDA HQs staff member will accompany Dr. Samarage on delivering the equipment to the Jaffna Hospital directly. AMDA is planning another cataract surgery mission in Sri Lanka in May/June 2012.
The photo: Deputy Representative of Taipei Economic and Cultural Representative Office in Japan Mr Lo, and AMDA President Dr. Suganami.