2012-05-31
Dr. Samarage, chairperson of AMDA Sri Lanka at 2012 International Medical Leaders Forum & Annual Meeting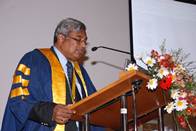 Dr. Sarath Samarage, Chairperson of AMDA Sri Lanka and the Former President of the College of Medical Administrators of Sri Lanka was a key speaker at the 2012 International Medical Leaders Forum held recently in San Francisco. The WFMM Medical Leaders Forum and Annual Meeting was held on 26 April 2012 in San Francisco, California, USA. This was immediately followed by the American College of Physician Executives (ACPE) Annual Meeting and Spring Institute (27 April to 1 May 2012). Dr. Samarage made an interesting presentation on "Medical Leadership in health systems reform: perspectives from Sri Lanka".
Members of the World Federation of Medical Managers (WFMM) met in San Francisco, California, USA on 26 April 2012. The WFMM invited 50 medical leaders from around the world to attend its Annual Conference.
Presentations and discussions focused on medical leadership in implementing structural and financial reform, and on certification of leadership competency.
www.wfmm.org