2012-06-29
AMDA Receiving the Presidential Award from the Philippine Medical Association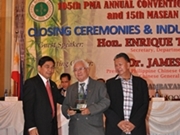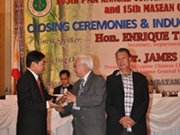 The Philippine Medical Association on its 105th Annual Convention and 15th MASEAN (Medical Association of ASEAN Countries) Conference during its Closing & Induction Ceremonies on May 18, 2012 presented a PRESIDENTIAL AWARD to AMDA for partnering with the Philippine Medical Association in carrying out Emergency Medical Relief activities in Northern Mindanao, in Cagayan de Oro City and Iligan City at the height of Typhoon Sendong.
Dr. Primitivo D. Chua, International Adviser of AMDA and Past President of Philippine Medical Association received the Presidential Award from PMA President, and Past President and Chairman of the Awards Committee.
Dr. Chua received the Award on behalf of Dr. Shigeru Suganami, President of AMDA, who personally went to Cagayan de Oro City & Iligan City to provide humanitarian services to the thousands of victims, where thousands perished and lost all their properties.