2012-07-04
Dr. Suganami's Visit to Myanmar
In June 2012, Dr. Suganami visited Myanmar for the first time in 7 years. During his visit, Dr. Suganami was able to meet with Professor Dr. Pe Thet Khin, the current Minister of Health, and 2 former Ministers of Health.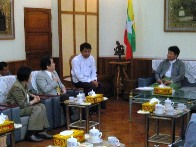 The three ministers have been providing with us the valuable guidance ever since AMDA Group initiated our projects in Myanmar 18 years ago. Dr. Suganami showed great appreciation to their understanding and support for AMDA projects, and they were able to exchange opinions for AMDA's future activities.
When Dr. Suganami made a courtesy visit to Mr. Takashi Saito, the Japanese Ambassador Extraordinary and Plenipotentiary of Myanmar, he had an opportunity to convey his ideas of various future activities based on AMDA's experience and knowledge from different projects from 18 years in Myanmar. Mr. Saito expressed his encouragement for AMDA activities and his ambition to enhance collaboration ties between Japanese Embassy and NGOs.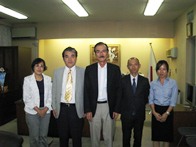 Dr. Suganami also visited central dry areas (District of Pakokku and Meiktila) to meet local beneficiaries and other local staff, where AMDA is implementing our projects.