2012-07-17
Relief Operation in Kurigram, Bangladesh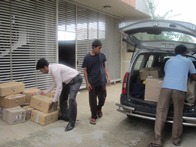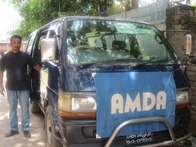 The first medical team for the flood victims in Kurigram left Dhaka in the early morning of July 12th, along with the 1st medical team consisting of 2 medical doctors, 2 coordinators, 1 paramedic, one coordinator from AMDA Headquarters in Japan, and the Executive Director from AMDA Bangladesh Chapter.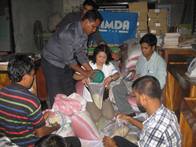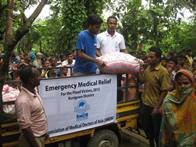 They arrived at AFAD (Association for Alternative Development) office located at Kurigram city at 8 pm. After a quick meeting with AFAD staff members for the relief operation starting the following day, they unloaded the relief goods purchased in Dhaka. They also made an arrangement to purchase the dry foods from the local market in Kurigram. Two locations for the relief operations were picked at the meeting with AFAD staff members; Kurigram Sader Upazila and Ulipur Upazila.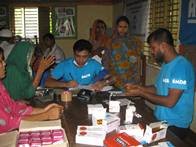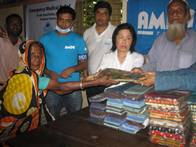 The medical team went to Shothrapur village in Pachgachee Union in Kurigram Sader Upazila, a village about 12 km from Kurigram City. Then the team was divided into two. One team started relief operation and medical campaign in Pachgachee Union, and another team went to Ulipur Union with the relief goods, about 30km from Kurigram City. They were able to cover two locations on the same day.
Below is the achievement as of July 13th.
1. Kurigram Sader Upazila: Distribution of dry foods: 600 people. Distribution of Cloths: 64 women and 64 men Treatment of Patients: 250 patients ( type of diseases are common cold, headache and body ache, weakness, diarrhea, dysentery, fever, skin trouble, etc. )
2. Ulipur Upazila: Distribution of dry food: 200 people.