2012-08-28
AMDA Soul and Medicine Program in Mongolia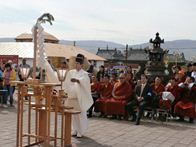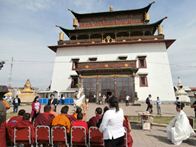 On August 26th in Mongolia, AMDA Soul and Medicine Program, or in short ASMP, was held at Gandan Temple, the headquarters of Mongolian Buddhism. This is the fifth ASMP in Mongolia. Religious Institution Oomoto (its headquarter located in Kyoto), Gandan Temple, and AMDA jointly released a message to pray for global peace. 2012 marks the 40th anniversary of establishing the diplomatic relationship between Mongolia and Japan.
The priest of Gandan Temple appealed to the audience that fostering friendship between Mongolia and Japan will set a precedent for global peace. "Instead of holding guns in our hands, we should be holding bouquet of flowers", he said.
Oomoto's representative said that the founder of the sect believes that the foundation of global peace rests in Mongolia, and Dr. Suganami, founder and president of AMDA, emphasized that understanding the religion in both Mongolia and Japan will further strengthen the friendship and help establish the foundation of peace and harmony of the area.
Again this year, AMDA will donate prescription glasses to the children in Mongolia, as well as holding technical seminars for the ophthalmologists, both in collaboration with Mongolian Ophthalmology Association.