2012-08-30
Concluding a Cooperation Agreement with Mongolian Red Cross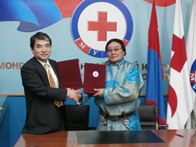 On August 27th, AMDA concluded a cooperation agreement with Mongolian Red Cross. The purpose of this is to cooperate with Mongolian Red Cross for future activities, with the focus on disaster relief missions. Participating in AMDA Multinational Medical Mission and jointly conducting exchange programs for volunteers, who are involved in emergency treatment and in blood donation, are the few examples of building partnership to prepare for the future disasters.
The director of Mongolian Red Cross, Mr SAMDAN-DOBJI Rabdangyn, and AMDA President, Dr. Shigeru Suganami, took turns in signing the papers and exchanged opinions on possibilities of joint activities. Future collaborations in emergency relief activities and other reconstruction activities are anticipated.