2013-10-26
Philippine Earthquake in Bohol and Cebu 3
On October 23rd, AMDA relief team and Philippine Navy (NAVRESCOM) conducted the need-survey in the worst affected areas, Maribojok, Loon San Isidro and Antequerra. The road condition was extremely hazardous, there were massive rockslide on the way to Maribojok from Antequerra. The sediment-related disasters were concerned due to the aftershocks and the long rain. In Loon, people living by the sea were evacuated to the hill side from the fear of tsunami. The evacuees live under the coarse makeshift flysheets on the ground located near the collapsed church. Six to eight households sleep in a tent. Fortunately they have already received adequate relief supplies and medicinal drugs from local government. However, many of them are seriously in need of daily necessaries. As in Maribojok, people suffer from a serious shortage of sanitation related items especially soaps.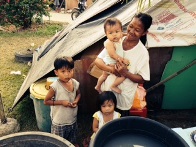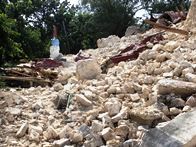 AMDA relief team visited 'Cong.Natalio P.Castillo SR. ME Memorial Hospital' for the field survey, and from the interview of the hospital director found that the numbers of patients, suffering from diarrheal disease and upper respiratory infections caused by unsanitary living conditions, were increasing. Hospital staffs are acutely concerned about group infection brought on by poor hygienic conditions.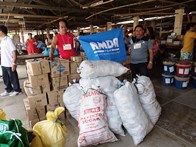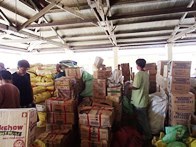 Responding to the field survey, AMDA team decided to contribute hygienic items such as soaps, disinfectant hand gels, detergents, toothbrush, toothpaste, and shampoos to 1000 affected families for the prevention of infectious diseases. October 24th and 25th, the relief team purchased necessary goods and divided into packages, and contributed them to the town mayor and chief administrator working on supplies delivery section. In Maribojok, almost all of relief materials are controlled centrally to share equally and effectively in the area.
Maribojok mayor expressed gratitude to the team, and said 'Philippines is a country values a spirits of mutual cooperation. We definitely overcome difficulties'.
AMDA team has completed its mission in Bohol Island and returned to Manila on 25th, and scheduled to leave for Japan on 27th.