2012-09-20
AMDA Donated Pairs of Glasses to Children with Amblyopia (partially-sighted) in Mongolia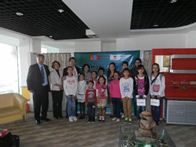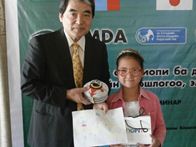 Students at Okayama City Yoshida Elementary School fundraise and make donations to AMDA for Mongolian children every year.
This year, AMDA provided pairs of glasses to 16 children with amblyopia for free. After receiving glasses from President Suganami, children were really pleased and said "I can see really well now!" "I came here from local area. This glasses fit me well." In return, they were handing in different gifts such as pictures that they draw and Origami Yurt to President Suganami.