2012-10-31
Dr. Rameshwar Pokharel, the Founder of AMDA Nepal, Visited Okayama, Japan
Dr.Pokharel visited Japan on October 6th through Oct 12th. Dr. Pokharel is one of the founders of AMDA Nepal, Siddhartha Children & Women Hospital and AMDA Hospital in Damak, Nepal. He graduated from Kobe University of Japan with a PhD.
The first day in Japan, he gave a lecture to the first and third year nursing students at Okayama Prefectural University about "Childcare Practice in Ancient Nepal, Taboos and Respects to children in Hinduism". From the lecture, students learned the root meaning of Ayurveda (Aayus=Life, Veda=Knowledge, Education, Psychology), and they said that the lecture gave them an opportunity to think about the necessity of providing holistic care.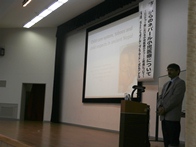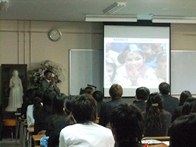 Dr.Pokharel gave lectures at other schools that have relationship with AMDA. He also had a chance to interact with AMDA High School Club members.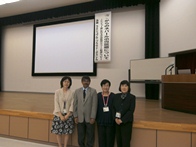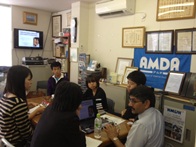 After the lecture, one professor said, "Dr.Pokharel's lecture was a little hard for students, but they were stimulated to see different customs and approach to patient care." One professor from the other school stated, "I would love to visit Nepal in the near future." Students from AMDA High School Students Club said that they had a valuable experience and became more interested in Nepal. In a questionnaire, one of the students wrote some challenges of medical care in Nepal; "To improve the environment" and "To provide medical care equally no matter where people live".
As a future event, two nurses from Nepal are coming to Okayama Prefectural University to learn the nursing care system in Japan. They are expected to arrive at the end of November.