2012-12-13
AMMM for Mindanao Flood, Philippines - II
On 9th and 10th December, Team secured relief food for distribution, and coordinated for the purchase of medicine. Team repacked those goods ready to distribute to 500 affected families with the help of local volunteers. One relief package contains 4 litres of water, 2 kg of rice, 3 tins of sardine and snacks for children.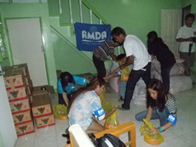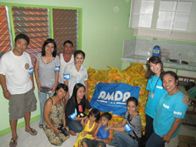 In the morning of 11th, 5 more doctors from AFP joined AMDA team and conducted a need assessment in the affected area.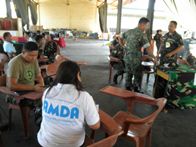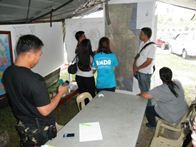 As a second team, a nurse from Okinawa arrived in Mindanao and helped to organize the medical mission in Mindanao.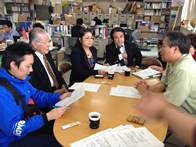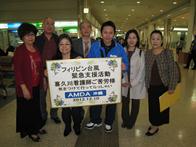 Since Municipality of New Bataan has been the main focus of the media, it was reported that the relief assistance to other affected areas have been very limited. Based on the local information, AMDA decided to conduct relief operation in the affected community where people have not yet received any assistance.
The medical mission was conducted on 12th December, and 483 patients visited the temporary clinic that was set up at a barangay (community) hall. AMDA also distributed 500 packs of relief supplies to the families who were affected by this typhoon. People who received the medical treatment and the supplies thanked AMDA team for coming all the way from Japan.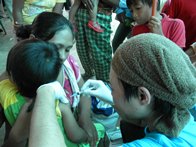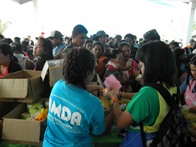 According to AFP, Davao is not a typhoon prone district but many people evacuated early thanks to an evacuation advisory issued by National Disaster Risk Reduction and Management Council (NDRRMC). However, the evacuation places were also caught in flash flood, and this has resulted in the increase in the number of affected people.
There are many people with common injuries, and water for wound-cleaning is needed. However, there is limited access to clean water. Moreover, it is reported that the survivors are experiencing psychological stress after the disaster.
According to NDRRMC, the number of the victims climbed up to 649, 1,482 injured and 780 still missing. In Compostela Valley, more than 400,000 people have become homeless. Total number of affected population is reported to reach 5,410,000 (490,000 families) and 30,000 families have been forced to live at evacuation center. 11 bridges, 9 roads are impassable, 21 municipalities experience power interruption and water supply was cut off in 6 areas.