2013-01-25
AMDA's Emergency Relief mission for the victims of Jakarta Flood, Part 2
AMDA Indonesia and AMDA HQ conducted the first medical mission on January 21st, with the great support of the medical students from AMSA Indonesia. In some areas, floods had started to recede however, Indonesia National Board for Disaster Management reports that the number of evacuees is still on the increase. Jakarta Post indicates that there are around 18,000 to 40,425 evacuees throughout the capital as of Sunday the 21st. The death toll in Greater Jakarta also increased to 27.
AMDA team consisting of 1 nurse and 1 coordinator from AMDA HQ, 1 doctor from AMDA Indonesia, 1 doctor and 2 psychologists from Jakarta completed the needs assessment at site by 20th and started preparing for the 1st activity. At all stages, 15 members from our local counterpart AMSA Indonesia have played an essential role showing the Sogo-Fujo spirit.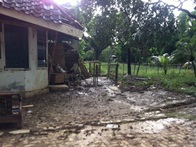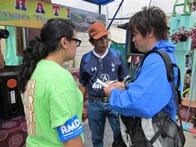 AMDA team selected the activity site based on the survey, which was started right after the Day 1 of the flood disaster by AMSA members. As a result, the team decided to conduct emergency relief activity in a community called "Tomang".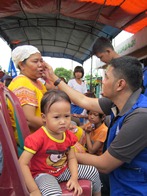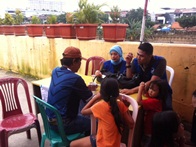 It has been reported that the people were prepared as they experience floods every 5 years. There are 2559 people (619 families) and all of them survived the flood disaster. However, the people in this Tomang had received no relief aid and the survivors were struggling to live day to day at the evacuation center without minimal lifeline.
A public kitchen was managed by the affected people, and the team handed over 50kgs of rice, water, and cooking oil to the group. At the medical mission, the team consulted 215 patients. Many of the patients had common symptoms such as upper respiratory tract infection, flu, diarrhea and dermatitis such as fungal infection.
The activity was carried out smoothly without any troubles, thanks to the painstaking efforts of our local counterpart AMSA Indonesia.