2013-02-08
AMDA's Emergency Relief mission for the victims of Jakarta Flood, Part 5
On January 25th, AMDA team completed the emergency relief activity for Jakarta Flood disaster with the final medical mission in the area called Kampung Melayu in east Jakarta. There has been a serious inundation in many parts of Greater Jakarta, the capital of Indonesia, due to the floods on January 15th caused by the continuous heavy rain.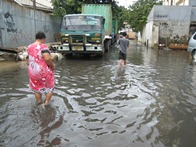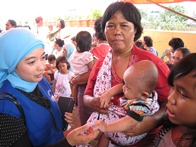 There are 1,500 people (600 families) residing in Kempung Melayu, and the people face the difficult situation without adequate access to medical services. AMDA team consisting of 10 AMSA Indonesia members, 2 doctors and 1 coordinator of AMDA Indonesia, 1 coordinator from AMDA HQ gave free medical check-up to 300 patients. The health of the affected people continues to be jeopardized due to the unhygienic environment caused by the flood water.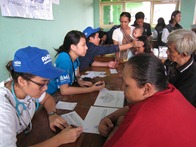 This activity went on and finished successfully even without the presence of a nurse from AMDA HQ, who left Jakarta on January 24th and arrived safely in Japan on 25th.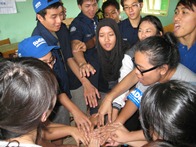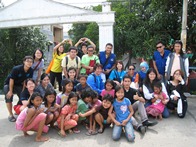 This emergency relief activity would not be possible without the initiative and responsible action of AMSA Indonesia. AMDA is very proud that the partnership between AMDA and AMSA worked well to ease the suffering of the affected people in Jakarta.
AMDA International has received a letter from AMSA Indonesia as follows.