2013-04-05
Emergency Relief Activity on Affected People in Meiktila, Myanmar
On March 20th, 2013, strife of different religious believers in a jewelry store developed to an outbreak in Meiktila Township located in the central Myanmar and its outbreak spread to the surrounding areas.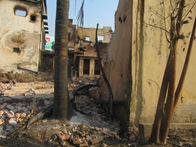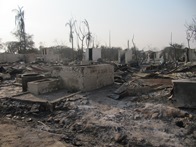 During the night of March 22nd, President Thein Sein of Myanmar declared a state of emergency in four townships including Meiktila.
Through the guidance from Dr. Win Myint, Deputy Minister of Ministry of Health, in response to this situation, AMDA decided to initiate our support to Mektila Dsitrict Hospital.
On 28th, staff from AMDA Myanmar handed over donations of medical supplies, fuel and other aids to the Hospital, and the authority of Ministry of Health showed his appreciation to AMDA's prompt support.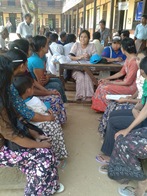 Mektila District Hospital is a core public hospital managed by Myanmar Ministry of Health, and injured people from its outbreak were sent to this hospital, which also provided care to affected people in the community through mobile clinic. As of March 25th, 117 injured patients were sent to the hospital and 1748 patients received care at mobile clinics in shelters conducted on 24th and 25th (Meiktila District Ministry of Health).
As of 29th, this outbreak has been settling down. It killed 40 people and damaged mosques and houses. Ten thousand people evacuated to 5 different shelters and 16 temples. Myanmar government and local companies donated relief aid such as food and water. Also, Myanmar Ministry of Health has been offering medical care at mobile clinics. However, local newspaper reports relief aid is not enough.
AMDA is currently assessing local needs for further support for hospitals and evacuation shelters.