2013-04-21
Report on the International Conference for "Asia Sogo-Fujo Network for Emergency Relief" - Volume 1: Day 1 and 2-
On April 12th, 2013, International Conference for "Asia Sogo-Fujo Network for Emergency Relief" started in Okayama with an aim to establish an Asian model for coping with various disasters. Representatives of leading organizations from 13 countries and areas including Japan gathered in Okayama City for establishing the Network.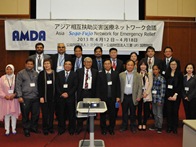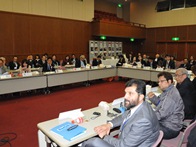 At the conference, each participant introduced their organizations and shared insights drawn from past and present activities of humanitarian missions with greater focus on emergency relief efforts. The conference created an open platform on which all participants with various backgrounds shared ideas and insights, and take the initial step towards the better disaster response with 3 basic principles "Spirit of Sogo-Fujo", "Partnership" and "Local Initiative".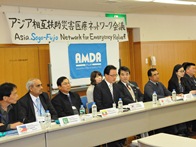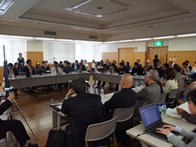 The consensus of working together beyond culture, ethnicity and religion was made among all participants and 16 organizations1 signed the Declaration in which all participants agreed to work together as Network member for emergency relief activities in disaster situations. Followed by the Declaration signing ceremony and a press conference, an Open Forum was held to reaffirm the main concept as well as the practical issues of the Network. Each member of the Network discussed how participating organizations could play their parts in enhancing and sustaining the effective functions of the Network.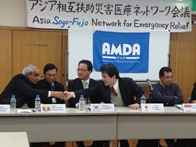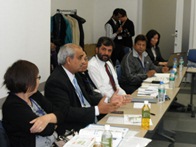 1. Organizations in the Network as of April 13th, 2013
| Country (UN Alphabetical Order) | Organization |
| --- | --- |
| Afghanistan | Afghan Health & Development Services (AHDS) |
| Bangladesh | AMDA Bangladesh |
| Indonesia | AMDA International,Chairperson of Standing Committee on Emergency Relief |
| Indonesia | 118 Emergency Ambulance Service Foundation |
| Japan | AMDA |
| Kyrgyzstan | "Interbilim" International Centre |
| Malaysia | Mercy Malaysia |
| Mongolia | Emergency Medical Service Center |
| Myanmar | Myanmar Medical Association |
| Pakistan | National Rural Support Programme (NRSP) |
| Philippines | Philippines Rural Reconstruction Movement |
| Republic of Korea | Medipeace |
| Republic of Korea | The Gyeonggi-Do Medical Association |
| Sri Lanka | Sarvodaya |
| Taiwan | TaiwanIHA |
| Turkey | Okayama Turkey Cultural Center |