2013-04-26
"Emergency Relief Activity for Dhaka Building Collapse, Bangladesh" ~Joint Mission of Japan-Bangladesh Friendship Hospital (JBFH) and AMDA Bangladesh~
On April 24th, in the worst ever building collapse in Bangladesh's 42-year history, at least 245 people are killed and over 2,000 people are injured in Savar, some 20 kilometers north of the capital city of Dhaka.
The tragic incident occurred when the eight-story building 'Rana Plaza' near Savar Bus Stand, housing four garments factories, a bank branch and several stores came falling down around 9 am instantly killing dozens of people and trapping hundreds of others in the debris.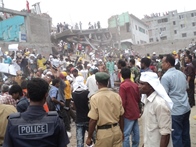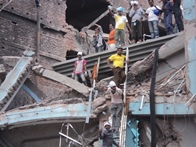 The death toll could rise as the all-day-long rescue operations have been carried out with outmoded equipment and methods. It has been reported that there are more survivors buried under the debris who are asking for help by using mobile phones.
The government has declared the following day as a 'Day of National Mourning' for those who lost their lives for the unexpected collapse of multi-story building. European Unions, United States of America and Japan have expressed deep condolence for the victims.
Right after the incident, JBFH and AMDA Bangladesh decided to send a joint team to investigate the situation, and seek the possible way to rescue the victims.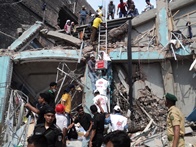 As a result on April 25th, 2013 an emergency response team consisted of one medical doctor, two coordinators, and three health workers have joined with an ambulance service to carry the injured patients to the nearby hospitals and conduct emergency medical services. In the activity, the team also initiated a voluntary blood donation campaign to collect blood ready for the victims.
JBFH and AMDA Bangladesh will continue to send the medical team to deliver the services to the people in acute needs.