2013-05-07
Second Activity Report for Building Collapse in Dhaka, Bangladesh.
AMDA's nurse who left Japan on May 3rd, 2013 arrived in Bangladesh, and joined the mission conducted by AMDA Bangladesh and Japan Bangladesh Friendship Hospital (JBFH) which was the only hospital who sent the ER team to the disaster site.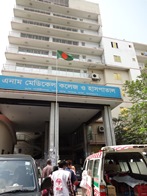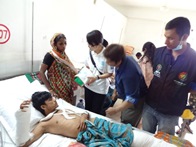 The team visited Enam Medical College & Hospital located near Rana Plaza Building in Savar, Dhaka, and distributed nutritional supplements. This is a medium-sized hospital that received many victims. Currently there are 156 patients being hospitalized. Some of the victims are losing appetite due to the psychological trauma. Most of the victims are those who migrated to Dhaka for work from the rural areas and thus cannot rely on their family for support.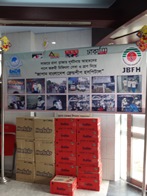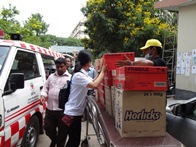 At Enam Medical College & Hospital, we learned that despite the ample medical supplies available at site, there has been a shortage for high nutrient food. Thus, AMDA team distributed 136 sets of powdered malted milk, talking to the patients one by one.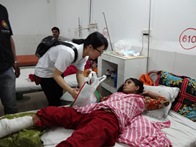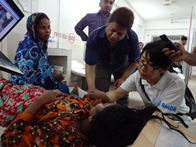 AMDA nurse reported that, the main symptoms among patients are such as abrasion, bone fracture, cut, bruise and quadruple amputation. Many of the hospitalized patients happen to be young and women. A lot of them were without any expression that was clearly from the traumatic incident.
In Bangladesh, due to the upcoming election, the public safety is becoming a big concern. There are political strikes taking place in Dhaka, and main roads are being shut down. AMDA continues to secure safety as well as seek a way of another relief mission based on local initiative.
According to the report from Bangladesh police released on May 5th, the number of death from the Rana Plaza collapse reached 626.