2013-05-13
AMDA's Rehabilitation Activity for Haiti Earthquake Survivors
Immediately after the 2010 Great Haiti Earthquake, AMDA commenced its activities starting with an emergency relief operation termed as AMDA Multi-National Medical Mission (AMMM) and continued with rehabilitation programs and projects.
There were two main rehabilitation projects implemented by AMDA; namely Prosthesis Project and Friendly Soccer Program. AMDA provided prosthesis to the people who lost their limbs due to the disaster. AMDA also promised to hold a friendly Soccer Program and also a yearly gathering for three consecutive years, following the disaster, for the participants from the above mentioned 2 main activities.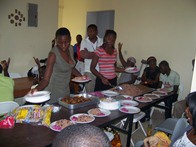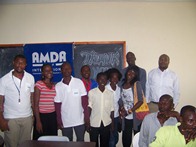 On April 21st, 2013, a yearly gathering for beneficiaries of prosthesis and Soccer Program was held in Port-au-Prince, the capital of Haiti. 53 people attended this event and enjoyed spending time together.
At the gathering, the chairperson of AMDA Haiti explained about AMDAª¨ªÆs activities as well as the past and future projects of AMDA Haiti. One participant commented, "After receiving prosthesis from AMDA in December 2010, I felt very happy with my life and hope to find a job and return to a normal life." Also, children from soccer project expressed their wish to play soccer with Japanese children and hold a party together one day in the future.