2013-05-22
Emergency Relief Mission for Cyclone Mahasen, Bangladesh
Last week, the government officials in Bangladesh's coastal areas have been put on a round?the-clock duty and volunteers on the standby for emergency rescue operation as the powerful Cyclone Mahasen was brewing over the Southeast Bay.
A joint Emergency Medical Response Team (EMRT) of Japan Bangladesh Friendship Hospital (JBFH) and AMDA Bangladesh were divided into two teams (Team-A and Team-B) right after the weather forecasting on Cyclone Mahasen, and was ready to move toward the coastal areas beforehand.
Team-A in the frontline, composed of 10 members including medical doctors, nurses, paramedic, health assistant, and coordinators, started from Dhaka on 14th May, 2013 to reach Taknaf prior to the cyclone. The team was involved in dealing with emergency preparedness with local authorities and other government and NGO teams to ensure safety and secured place for the people living in the low lands. The team stayed there for 3 days.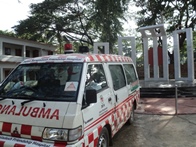 As the second phase of the operations, considering the destruction and accessibility in different locations, Team-B composed of 6 members including medical doctor, coordinators, nurse and health assistant, has moved on 18th May to Kalapara Upazila in Patuakhali District which is one of the most affected areas. About 10,620 people were affected in this area and 2,300 households were fully destroyed and 4,200 households suffered partial damages.
A day-long medical relief activities were carried out on 19th May, 2013 in Pakhimara Bazar, Nilganj Union of Kalapara Upazila. Considering the destruction in the said area, the joint EMRT has provided emergency medical support, consulting patients, distributing necessary medicine, such as Oral Rehydration Solution(600 pieces) and IV saline (10). The team also distributed clothes (100 Sarees for women and 100 Lungee(Sarong)for men), dry food items like rice-flakes (200 Kg), molasses (50 Kg) and non food items such as candle and match box (1,200 pieces each), etc. Food and non food items were distributed to about 400 beneficiaries and about 200 patients received the necessary medical assistance.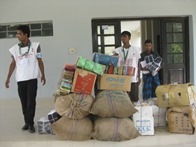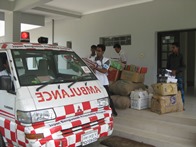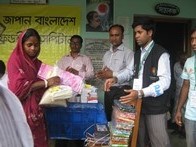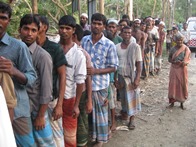 Emergency Medical Response Team (EMRT) of JBFH was originally formed seven years ago, to help the people distressed due to sickness, accidents or any sudden man-made disaster or natural calamities. Recently AMDA Bangladesh and JBFH has started to run EMRT jointly with "Open Sogo-Fujo Spirit", "Partnership" and "Local Initiatives" based on the declaration of Asia Sogo-Fujo Network for Emergency Relief that was signed in Okayama, Japan. The EMRT is composed of experienced doctors, paramedics, nurses, technicians and health workers. The main aim is to provide emergency medical relief assistance to distressed communities and have been successfully operating throughout the country whenever there is a need in any emergency situation.