2014-04-11
Third Dental Mission as 2010 Haiti Earthquake Reconstruction Activity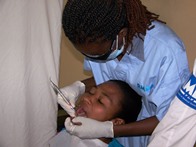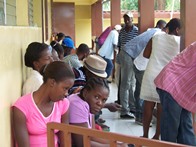 As part of the three year follow up activities of the massive 2010 Haiti Earthquake, on 1st March 2014, AMDA Haiti conducted the third dental mission at the Salvation Army Hospital in Fond-des-Negres, Haiti, in collaboration with the Salvation Army. AMDA has been supporting survivors of 2010 Great Haiti Earthquake by providing various projects such as, one year long prosthesis project where AMDA appointed a Japanese Prosthetic technician to produce and provide prosthesis to the people affected by the disaster; Soccer and culture exchange programs for 3 consecutive years involving children from the affected area; and conducting dental missions.
During this dental mission, 78 patients from Fond-des-Negres and surrounding areas were able to receive dental care such as dental examination, cleaning and tooth extraction. One of the patients told us that this was his first time to obtain dental care.
At the same time, AMDA Haiti offered dental hygiene education including how to brush teeth; the importance of brushing teeth regularly; what food is good for dental health; the importance of routine visit to dentists and the importance of preventing cavities and periodontal diseases. Most of the people in Haiti think of visiting a dentist only when they have dental problems. However, this education program made them aware the importance of preventative dental care.
Since some local people in Haiti has no access to dental care and rarely receive dental hygiene education, this mission was really meaningful, and many patients were satisfied and expressed their appreciation to the AMDA team of dentists.