2013-11-18
Responding to the Disaster of Typhoon Haiyan in the Philippines 4
Before dispatching the fourth team to the Philippines, the City of Soja and AMDA held a joint press conference on November 18, 2013. The mayor of Soja City mentioned that Soja City Board of Education would send one coordinator to the Philippines. AMDA had concluded an agreement of cooperation with the City of Soja and Okayama Prefectural University recently. This is the first dispatch after the agreement had been signed.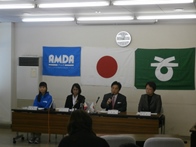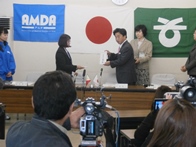 The coordinator is a native of the Philippines living in Japan, and this is her fourth time to join AMDA's missions. During the press conference, she said, "As a representative from Soja City, I will deliver the message of sympathy to the people suffering from this huge disaster in the Philippines." AMDA nurse enthusiastically mentioned, "I will deliver the message that we have not forgotten about the victims of this disaster."
A representative from a community group "Soja Brazilian Community and International Friends" handed the donation to the coordinator. Also, messages from the mayor of Soja City, and Ishinomaki City where the Great East Japan Earthquake had affected were handed over.
After the press conference, the team left Okayama for the Philippines. They arrived in Manila on the same day and joined the AMDA team already in the area. The coordinator plans to work in Panay Island with another AMDA nurse, while the AMDA nurse of the fourth team plans to work for relief efforts in Manila.