2013-11-13
Responding to the Disaster of Typhoon Haiyan in the Philippines 3
Based on the assessment that the AMDA nurse who had worked for relief efforts in the island of Bohol conducted, the life of the most people has been back to normal. Thanks to the aid, there are enough food, water and medical supplies.
However, temporary classrooms and school supplies are insufficient. Most children have not been able to go back to school due to the typhoon. Most school buildings have been damaged, and some schools have just begun outside classroom for a few hours a day while others have postponed their classes, which has caused stress to children. Considering this situation, AMDA has donated 390 boxes of crayon, 2,880 notebooks, 1,730 pencils and 1,150 pens to approximately 2,850 pre-school and elementary school children in Maribojoc District.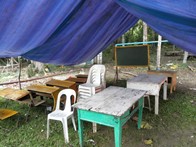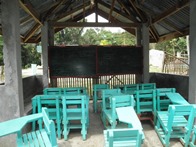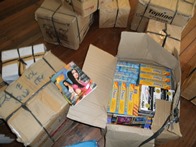 The blackout of the Bohol Island is expected to last until the end of December as the power plant of Leyte Island supplying power to Bohol Island, was destroyed by the Super Typhoon and is not functioning. In Maribojoc, they use generators at disaster reduction headquarter office. In some areas where they had already installed solar panels, they use the solar power.
Doctors and nurses treat people at larger tents or the nearby hospitals which did not have major damage to their buildings. Upper respiratory tract infection is one of the major symptoms. Super typhoon doubled the number of patients with cough and fever. Rain and day and night temperature difference, the patients with asthma attack has also increased. Although there are enough medical supplies, they lack power for the inhalers.
Because the needs of the affected areas change on daily basis, AMDA will closely contact with the local partners to decide about future relief efforts.