2009-04-09
AMDA Emergency Bulletin II: Emergency Relief for Dam Burst in Indonesia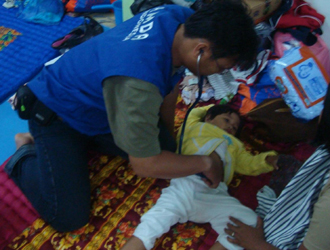 On Mar. 30th '09, AMDA Indonesia emergency relief team arrived at Situ Gintung, where the dam has burst on Mar. 27th '09. After meeting with local committee, AMDA team assessed the situations by visiting evacuation centers and medical camps. About 100 deaths and 14 missing people have been reported so far. The displaced population has reached 902. 319 houses and 11 buildings have been destroyed in Situ Gintung. Many local volunteers have participated in rescue operations. Most of the survivors have been rescued by their relatives. According to the AMDA Indonesian doctors, the emergency phase has already passed and the present situation is calm and stable.
AMDA team donated medicines to the central medical camp in Masjid Jabalur Rahmah, and conducted mobile clinic by visiting medical camps in the affected area from Mar. 31st to Apr. 2nd '09. Overall, during the four-day medical camp, they treated 36 patients (28 male and 8 female) with common maladies including cough and cold (30.5%), wound infection (22.2%), skin disease (11.1%), GI tract disease (11.1%) and others (25.1%).
In collaboration with the local committee, AMDA team provided a trauma healing program for the affected children on Apr. 2nd '09. On the following day, AMDA team donated 50 packages of stationery including pen, pencil, sharpener, eraser and books to the affected children.
(Reported by Dr. Husni Tanra, AMDA Indonesia chairperson)