2013-08-24
Helping People on the Way to Recovery - Follow up on the Pakistan Flood of 2010
In the summer of 2010, 79 out of 122 provinces in Pakistan have been heavily affected by the catastrophic floods caused by torrential rain of late July. AMDA Headquarters together with its chapters in neighboring countries, namely Afghanistan, Bangladesh, Indonesia has carried out an array of relief activities during the months that followed. In collaboration with its local counterpart, the National Rural Support Programme (NRSP), AMDA was active in Thatta, Sindh Province, and around Nowshera, near Peshawar.
The horrendous havoc wreaked by massive natural disasters always leaves deep scars in every aspect of affected community that would take years, sometimes lifelong, to heal. The entire village of Ali Muhammad Jat in Jati District, south-east of Thatta, was inundated during the flood of the summer 2010 giving a crippling blow to its main farming industry. During the months that followed the destructive flood, the villagers were forced to relocate to safe places. 80 households, 455 people, out of these relocated people are now back in their own native village and are accommodated in restoration houses built with full support by the National Rural Support Programme (NRSP). NRSP also helped build public toilet as well as solar system in the community.
On Aug 20, a presentation ceremony took place here in the community hall of the village. It was arranged by the local staff of NRSP. After a talk on the present situation of village's reconstruction, sewing machines were presented to 18 selected women. "With this sewing machine my dream has finally come true today. I have always wanted to work as a tailor.", one of the women commented. It is expected that these sewing machines will contribute to the women's employment in the area whose major farming industry has been badly damaged by the flood. The sewing machines were purchased through AMDA fund which was delivered by one of its coordinators from its Headquarters in Japan.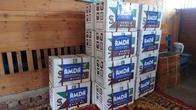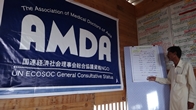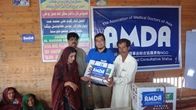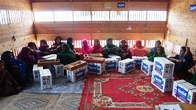 NRSP, AMDA's trusted counterpart in Pakistan, has advised AMDA about the most effective way of helping the affected community