2013-08-27
Emergency Relief Mission for Flood in Philippines 2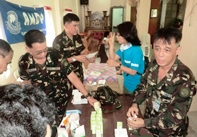 Torrential rain brought on by Tropical Storm pounded Luzon Island, north of the Philippines from 18 August. AMDA launched emergency relief mission, with the help of Armed Forces of Philippinesand the local NPO Voice of New Generation, for the affected people of Philippines flood.
On 24th , AMDA team, consisting of one Japanese nurse from its Headquarters and one coordinator from Okayama-Pilipino Circle, arrived at Manila and met with representatives of AFP at Manila airport. As reported by emergency responder, the wide areas of Luzon islands submerged in water on the ground of constant heavy rain, and it possibly takes a long time to settle down. According to a report released by the Philippines National Disaster Risk Reduction and Management Council (NDRRMC) on 27th August, 25 people have been killed from the flooding, while 2.92 million have been affected.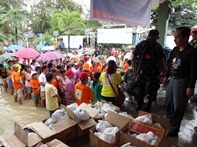 On 25th, with the help of AFP, AMDA purchased 1,009 packages of relief supplies including drinkable waters and foods for the missions ahead. On 26th, Emergency relief team visited evacuation centers in Tampok, St.Isidro, St.Sebastian, St.Agustin, St.Elena, which are immensely affected in Luzon Island. In the church in Tampok, medical care team consisting of two doctors and one nurse from AFP, one nurse from AMDA headquarters and local volunteer staff provided medical care for injured and sick people.
Within previous 2 days, the number of beneficiaries totaled 1160(cumulative). People who received the medical treatment and the supplies thanked AMDA team for coming all the way from Japan.