2014-03-07
Mongolian Doctor Receives Training in Okayama
From February 23rd through 27th, a doctor from 'Emergency Medical Service of Mongolia' visited Okayama City to participate in a four-day training program for emergency medical service provided by Okayama City in response to the official request from Ulaanbaatar City.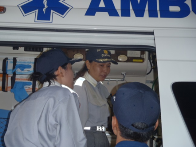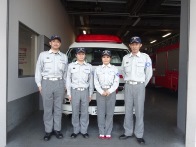 The training programme was held at Okayama Nishi Fire Station, Okayama University Hospital Advanced Critical Care & Emergency Medical Center and various relevant organizations under the initiative of Okayama City Fire Bureau.
On February 24th, the Mongolian doctor accompanied by an AMDA staff made a courtesy call on Okayama City Mayor, Mr. Masao Omori. Afterwards, they moved to Okayama University Hospital to observe specialized ICU facility in the emergency department unit. In the afternoon, the doctor had an intensive lecture on patient transportation system at Okayama Nishi Fire Station, and started practical training inside an emergency vehicle.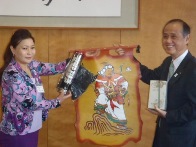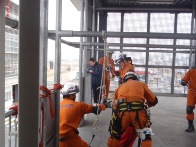 On February 27th, the doctor had completed her four-day training. She expressed her gratitude and said, 'I learned a lot through this training. I would like to share my experience and knowledge gained from this opportunity to my fellow people who engage in this field in Mongolia for the improvement of our emergency medical system.'