2014-01-22
Emergency Relief Mission for Flood in Manado, North Sulawesi, Indonesia
The continuous heavy rain has caused massive flood in different areas in Indonesia. According to the report from the government's disaster agency, 13 people were killed, and more than 40,000 people were displaced.


Responding to the local needs in the heavily-hit Manado, Province of North Sulawesi on Sulawesi Island, on January 19th, 2014, AMDA Indonesia dispatched a medical team consisting of two doctors and one nurse to the capitol of North Sulawesi. Two more local doctors in Manado joined the team.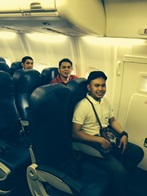 After arrival in Manado, they immediately started mobile clinic in the town of Perkamil. It was one of the severely damaged area where people lost houses and most of their posessions.


On the second day, AMDA Indonesia team joined with the local Salvation Army's medical team to conduct another mobile clinic in the city of Manado. The team saw 76 patients.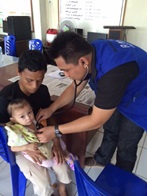 On the third day, with more help of local doctors and medical students along with local volunteers, the team conducted mobile clinic in the village of Pakowa. Following the medical check, they distributed 140 relief packs consisting of dry noodles, mineral water, and body soap to 73 patients who came to the mobile clinic, and the people in the community.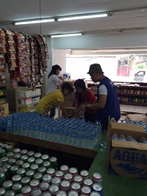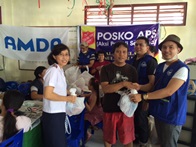 Throughout the mission, the major symptoms among the patients were skin irritation, common cold, diarrhea, upper respiratory inflammation, and external injuries.
Many of the patients expressed their appreciation toward AMDA Indonesia team for coming to giving them much needed medical care.
AMDA Indonesia team will remain in the area a few more days and watch the situation carefully.