2014-01-07
Responding to the Disaster of Typhoon Haiyan in the Philippines 11
On December 13, AMDA Multi-national Medical Mission (AMMM) moved from Manila to Panay Island to implement a series of medical mission on the island. Upon arrival, they were welcomed by the Iloilo vice provincial governor.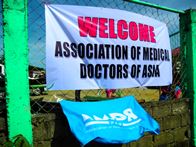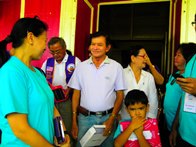 On the 14th they implemented a mobile clinic, and the local health officer joined in the relief activity. They also distributed relief supply pack consisting of 3kgs of rice, canned sardines, some instant noodles, to 120 families. Furthermore, they gave key chains and barrettes to the children as Christmas gifts.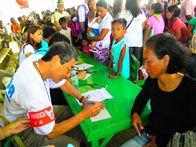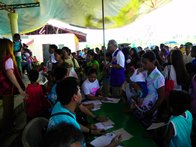 On the 15th,they implemented another mobile clinic in the northern part of Panay Island, Estancia. Doctors and nurses from Iloilo, including the director of Iloilo Hospital joined the team to help with the relief activity. They distributed food supplies to 150 families and gave the children 100 bags of snacks.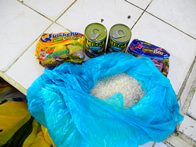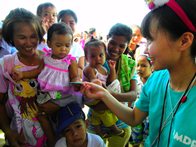 The major symptoms of the patients were the upper respiratory tract infection. Some suffered from asomnia. One child had cut his finger with rubbles. Some patient said "I barely get to eat every day, as I lost my job after the typhoon. I appreciate such a relief activity." "As my house was destroyed by the typhoon, I have been staying in my relative's house. I appreciate your coming to help us." "I have a bad backache as I have been repairing my house damaged by the typhoon. I appreciate your help." Many appreciative words were given to AMMM team.