2011-05-24
ER Follow-up: Recovery from the volcano eruption (Mt. Merapi, Indonesia)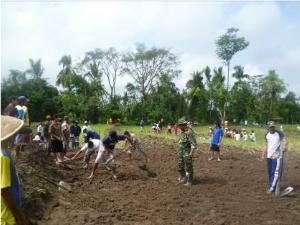 At the time when Mt. Merapi, a volcano in Central Java, Indonesia, erupted in Nov. 2010, AMDA sent a joint relief team to Surakarata to conduct relief work in the region. Upon the team's arrival AMDA collaborated with YKP Surakarata, its local counterpart, to help the evacuees in Muntilan, a town located in the west of the volcano. From there on, AMDA delivered mobile clinic services to the towns and villages in the vicinity.
AMDA recently received a follow-up report from YKP Surakarta on its recent developments after it conducted an assessment at the village of Banyudono, one of AMDA's emergency relief locations.
According to the report, while there weren't many casualties from the eruption, the arrival of rainy season caused the flood of cold lava to strike the village. As a result, the areas worth 20 hectors including rice fields and community cemetery were affected. In response to this, the local government and the residents committee decided to relocate the cemetery.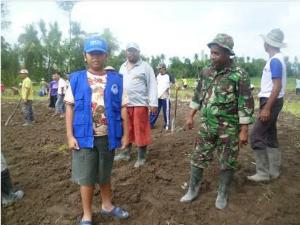 On May 8th, the effort spearheaded by the mayor, "Working Together" was held to relocate the cemetery and fix the drainage with the participation of the villagers. Overall about 100 people, including the people from nearby villages, took part in the work and received aid goods from the mayor. The aid goods were provided under the decision between the mayor and YKP to reward those took part in the effort, and goods worth 400kg of rice, 150 kg of sugar, 168 liters of cooking oil as well as 400 sets of tea and fruits were given to the participants in total.
While the aid was appreciated by the villagers, one of the participants expressed gratitude that "despite the hardship Japan has been going through at the moment, the Japanese people still care about us. It is beyond words to express how thankful we have been."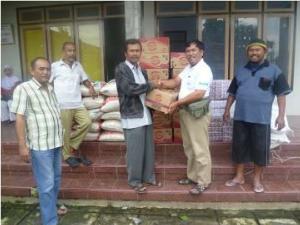 The past articles on Mt. Merapi emergency relief:
2010-11-16:AMDA Emergency Bulletin #1: Mt. Merapi Volcano Eruption, Central Java, Indonesia
2010-11-20:AMDA Emergency Bulletin #2: Mt. Merapi Volcano Eruption, Central Java, Indonesia