2011-04-08
AMDA Emergency Bulletin #16: Japan Earthquake and Tsunami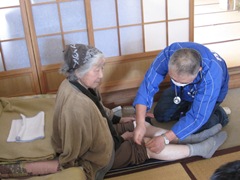 Iwate Prefecture (the town of Ohtsuchicho):
AMDA has been continuing medical treatments at the evacuation centers and mobile clinic services in the vicinity. The common ailments include chronic diseases such as high blood pressure and diabetes as well as common cold, hay fever, gastroenteritis, tetanus and so on.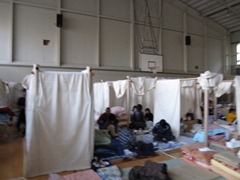 In consideration of the prolonged evacuation life, partition walls are now provided to the families in securing privacy.
Also to keep the elderly away from becoming bedridden or economy-class syndrome, gym machines were installed at the evacuation centers to encourage their physical exercise. About fifty people are using the facility on average per day.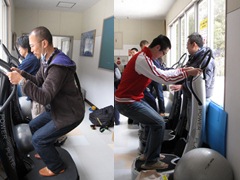 Miyagi Pref. (the town of Miamisanriku-cho):
The decline in the number of evacuees is currently seen at Shizugawa Elementary School; the number has decreased from 250 to 200.
Two electric generators were delivered to an evacuation shelter that did not have electricity. From now on they are able to use electricity in the room where norovirus patients have been isolated.
On Apr. 4th AMDA sent one psychiatrist and one nurse to Minamisanriku-cho to provide mental care for the evacuees withstanding this hardship. As there are several evacuees suffering from panic disorders, the need for continuous mental care became visible.
While counter measures for norovirus have been carried out, AMDA decided to send supplies such as bleach and other sanitary goods to reinforce the efforts.
Visit by a famous Japanese singer, Takeshi Kitayama:
As part of AMDA's assistance, on Apr. 8th AMDA sent a renowned Japanese singer, Takeshi Kitayama to the evacuation center to entertain and ease the fatigue of the evacuees. According to AMDA President Dr. Suganami, music is one of the most effective means to ease their feelings while tough evacuation life continues in the afflicted sites.
His hearty a cappela performance resonated with the hearts of the evacuees; many of them bursted into tears listening to him.
Latest dispatch of AMDA personnel:
19th team: 2 doctors/interpreters, 1 doctor, 1 nurse (Apr. 4th)
20th team: 2 doctors, 2 nurses, 1 assistant nurse, 2 coordinators (Apr. 8th)
Total number of AMDA's relief personnel (as of Apr. 8th): 121
44 doctors, 23 nurses, 3 midwives, 2 assistant nurses, 3 pharmacists, 2 psychotherapists, 42 coordinators (including assistants and interpreters), 2 careworkers
Stay tuned for more updates.