2009-03-27
Signing of MOU between AMDA and Taiwan IHA in Taipei, Taiwan
AMDA was invited to attend the 3rd anniversary ceremony of Taiwan International Health Action (Taiwan IHA) in Taipei, Taiwan on 27th Mar. '09. Dr. Shigeru Suganami, President of AMDA International, Dr. Chaokai Chang, President of AMDA Taiwan, Program Officer, Premire Urgence of France, domestic medical institutions, and humanitarian relief groups attended the meeting to discuss transnational resources/manpower and materials/goods integration. Close to 100 domestic medical personnel, humanitarian relief and social welfare groups attended the symposium.
On this occasion, AMDA and Taiwan IHA concluded the Memorandum of Understanding for future cooperation in humanitarian relief. After signing a Memorandum of Understanding, Dr. Suganami gave a speech on International Network of Sogo-Fujo. In his speech he explained the organization of AMDA and reported on its current and future programs. Dr. Suganami reiterated that AMDA would work more closely with Taiwan-IHA as a partner during emergency relief activities.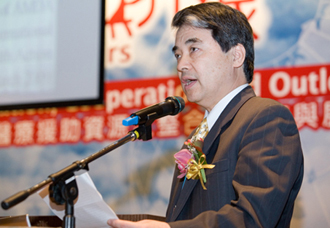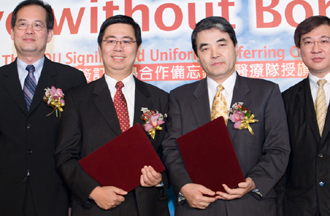 Guest lectures and presentations
Speech 1: International Network of Sogo-Fujo (Mutual Support)

Speaker: Dr. Shigeru Suganami, President, AMDA
Speech 2: The Challenges of Medical Emergency Relief Practices and Cross-Organizational Collaboration

Speaker: Dr. Steve Ringel, Program Officer, Premire Urgence of France
Panel discussion
Panel session 1: Cross-Organizational Raising and Donations of Medical Relief Resources

Moderator: Dr. Che-Ming Yang, Executive Director of Taiwan IHA

Panelists:
1. The Red cross Society of the Republic of China
2. Taipei Hospital, Department of Health
3. International Cooperation and Development Fund (ICDF)
Panel session 2: The Coordination of Emergency Relief Personnel, and Recruiting and Training of Volunteers

Moderator: Dr. Kung-Chang Hwang, Executive Director of Hospital Administration Commission

Panelists:

1. Taiwan Root Medical Peace Corps
2. Ling Jiou Mountain Social Welfare and Charity Foundation
3. Taiwan International Health Action