2013-10-02
Emergency Relief for Earthquake in Balochistan, Pakistan 2
In response to the 7.7 magnitude earthquake that struck the districts of Awaran and Kech in Balochistan on 24 September 2013, one of AMDA's nurses was dispatched to Karachi from its Japan headquarters on 28 September 2013. She joined the local organization leading the relief efforts, NRSP (National Rural Support Programme), in Karachi to conduct an investigation.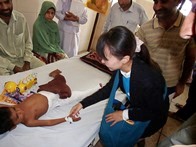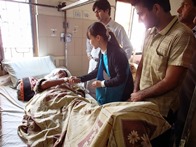 The AMDA nurse visited one national hospital (JPGMI: Jinah Post Graduate Medical Institute) and one private hospital (Agha Khan Hospital) in Karachi on the 30th of September. JPGMI provided free medical service for 60 affected people. Most of the patients were women and children as they were at home when the earthquake hit. They had major symptoms such as bone fractures as well as spinal and visceral injuries. Severe mental trauma was found among children who had lost their family members. At Agha Khan Hospital, two critical patients were transferred from a public hospital. The AMDA nurse was able to talk to one patient with several bone fractures. She said "Thank you for coming all the way from Japan. I am glad because I feel that I have not been forgotten."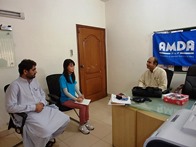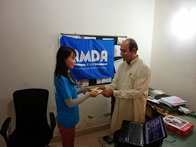 After a series of investigations with NRSP, AMDA decided to contribute drinking water and other aid materials to JPGMI. Apart from this, AMDA is planning to make a donation to provide about 2,400 bamboo shelters to be used as a temporary housing for the affected people in Awaran Union and Parwar Union in the Awaran District. According to the initial assessment of the NRSP team, 530 deaths were reported in the Arawan district and 44 deaths in the Kech district. A large number of people were also reported injured.