2011-03-25
AMDA Emergency Bulletin #9: Japan Earthquake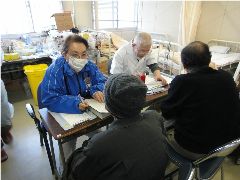 While aftershocks still continue in Iwate and Miyagi Prefectures, current cold weather (snowing in some areas) poses an extra burden on those who are withstanding the aftermath. However, a good news came from Kamaishi city (Iwate) that despite the lack of merchandise some of the convenience stores have started to resume services. Overall, the distribution of goods has been improving gradually.
On Mar. 24th, AMDA sent one coordinator to Minamisanriku-cho in Miyagi followed by additional dispatch of one coordinator to Iwate.
AMDA President, Dr. Shigeru Suganami, who returned from the disaster site on Mar. 21st will be rejoining the existing teams in Iwate accompanied by one doctor and one nurse.
On Mar. 25th, a truck loaded with medicines, sanitary goods and other aid supplies will leave for Kamaishi city and the town of Ohtsuchicho in Iwate responding to the inquiries from the local teams.
Iwate Prefecture (Kamaishi City and the town of Ohtsuchicho):
AMDA teams have been closely working together in four evacuation shelters, namely, Futaba Elementary School, Kamaishi City Gymnasium, Kamaishi Junior High School and Ohtsuchi High School. Thanks to the support from a pharmacy in Kamaishi city, the prescription and provision of medicines have been going much smoother than before. AMDA teams have been in touch with the local doctors on any matters pertaining to the handover of the activities, sharing the information on patients that are in need of continuous care.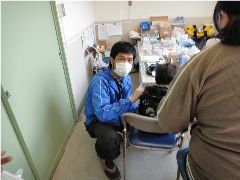 AMDA has been handing out the copy of one's clinical record to each patient for further convenience. It is also reported that medical teams will be sent from adjacent Aomori Pref. (north of Iwate) shortly, thus leading to the improvement of the local medical infrastructure.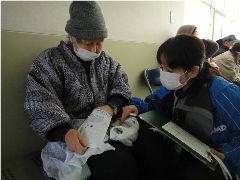 Miyagi Prefecture (Minamisanriku-cho):
All of AMDA personnel were relocated to Minamisanriku-cho and have been working at Shizugawa Elementary School since Mar. 23rd. AMDA is mainly supporting a local doctor who had already been active in the area. In order to fulfill the needs at the smaller evacuation shelters where medical aid has been scarce, AMDA team is planning to deliver mobile clinic services.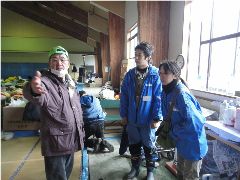 Now that the road access to Minamisanriku-cho has recovered, the transportation of relief goods has been relatively stable. Food supplies have been somewhat well-off and medicines can be delivered within a few days of ordering.
Latest dispatch of AMDA personnel (as of Mar. 25th):
12th Team: two coordinators (one to Iwate and one to Miyagi) (Mar. 24th)&nbsp
13th Team: two doctors (including AMDA President), one nurse (Mar. 25th)
The number of AMDA's relief personnel thus far: 62
23 doctors, 10 nurses, 2 midwives, 1 assistant nurse, 2 pharmacists, 24 coordinators
Stay tuned for more updates.