2011-03-17
AMDA Emergency Bulletin #4: Japan Earthquake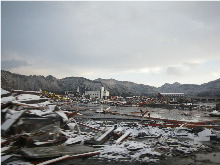 AMDA team in Kamaishi City and the Town of Ohzuchicho, Iwate Prefecture:
On Mar. 15th four members of AMDA team working in Sendai City, Miyagi Prefecture moved to the adjacent Iwate Prefecture to work in one of the most severely damaged sites.
Upon their arrival in Kamaishi City, Iwate Prefecture later that day, the team assessed the local condition, and has started to deliver mobile clinic services to the local evacuation shelters (Kamaishi Junior High School, Kamaishi Elementary School, Kamaishi City Public Gymnasium and Ohtsuchi Kyudo Dojo) from Mar. 16th.
After seeing patients at the above-mentioned junior high school and elementary school, one AMDA doctor is now staying in one of the evacuation shelters around the clock to treat the patients. From Mar. 17th, one doctor will be joining the nurse stationed in the aforementioned public gymnasium.
The AMDA team is planning to further visit other evacuation shelters in the vicinity. As of now the town of Ohzuchicho is especially in a difficult situation as its administrative function has not been recovered at the moment; the town hall was heavily affected by the tsunami and even the town mayor has been missing.
AMDA team in Sendai City, Miyagi Prefecture:
On Mar.15th, AMDA team in Sendai City (five doctors, two nurses, one driver) delivered mobile clinic services to one nursing home in Aoba Ward and six evacuation shelters (local schools) in Miyagino Ward (each shelter holds 200 to 1,600 evacuees.)
On Mar. 16th, the team visited seven local schools to deliver mobile clinic services (the number of evacuees ranged from 90 to 800 in respective shelters.) Overall, the common cold is the most prevalent malady in the evacuation shelters as many of the locations has no power supply (heating) at the moment; there were patients that needed dialysis as well.
Through Mar. 14th to 15th, AMDA donated aid supplies to two nursing homes in Aoba Ward. The items include meals, water, meat, vegetables, rice, kerosene heaters and charcoals. While the cold weather continues, the health condition of evacuees is seriously concerned as electricity and food supplies are lacking in the area.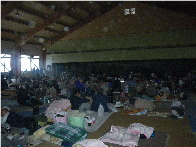 On Mar. 17th, AMDA's sixth team comprising two coordinators, two nurses and one pharmacist will be dispatched to the afflicted sites.
AMDA has so far dispatched 25 relief/medical personnel (as of Mar. 17th): 10 doctors, 4 nurses, 1 midwife, 1 lab technician, 1 pharmacist, 8 coordinators
Stay tuned for more updates.