| | |
| --- | --- |
| | |
| The Foianini family: their son, Esteban (second from left) now leads AMDA Bolivia | |
AMDA Bolivia
This month's Chapter of the Month features AMDA Bolivia, one of AMDA's leading chapters in Americas region. The late Dr. Jorge Foianini, the founder of AMDA Bolivia, was indeed a passionate human-being whose heart resonated with the philanthropic vision of Dr. Shigeru Suganami, AMDA President, which later led him to set up a chapter on his own.
Below is an article contributed by Mrs. Julia Foianini who witnessed the history of AMDA Bolivia from its birth and how it grew to what it is now; all of which was realized with the enormous drive and aspiration of her late husband.
Memoires of Dr. Jorge Foianini's relationship with AMDA-INTERNATIONAL
Dr. Jorge Foianini began his relationship with AMDA-INTERNATIONAL in 1994. As his wife, I was able to see the development of their ties, and Jorge´s excitement when AMDA Chapter was initiated in Bolivia. Since returning to Bolivia in 1975, his goal had been to improve the Healthcare System in Bolivia. The creation of AMDA-Bolivia was an important step in that pursuit.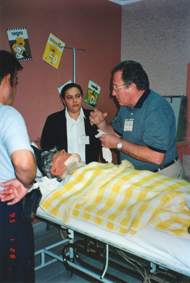 Dr. Foianini was initially introduced to AMDA-INTERNATIONAL through Dr. Ever Escobar. While Dr. Escobar was a student at the University of Tokushima, he met Dr. Shigeru Suganami, the President of AMDA-INTERNACIONAL. After learning that he was from Bolivia, Dr. Suganami requested that Dr. Escobar contact someone in Bolivia who might be interested in developing projects with the philosophy of AMDA-INTERNATIONAL.
Initially Dr. Escobar wrote to the Ministry of Health in Bolivia. He never received a reply, so he opted to contact Dr. Foianini who at once became very interested in the idea. AMDA-INTERNATIONAL invited Jorge to participate in the First Forum of Emergencies in Natural Disasters held in Okayama, Japan, in October of 1994. It was in that meeting that Dr. Foianini met Dr. Shigeru Suganami for the first time. Since their first encounter, the similarity of their philosophies toward humanitarian aid was evident and became the basis for the deep friendship between them.
Jorge was moved by Dr. Suganami´s vision and capacity to bring together and inspire people from different cultures and nationalities to work for the well being of people in their regions. Jorge often spoke of his respect and sincere friendship with Dr. Suganami. He felt great satisfaction for being part of an organization that was so wonderfully committed to help people who suffered natural disasters and also implement diverse social programs to improve their living conditions.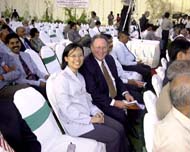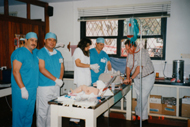 After meeting Dr. Suganami in Japan and learning about AMDA´s philosophy, Dr. Foianini returned to Bolivia filled with ideas and enthusiasm, anxious to be part of a project that would help make his dream of a better healthcare system in Bolivia a reality. For many years Jorge had searched for ways to improve the education of Bolivian medical doctors in order to advance the quality of medical care given to the population. He strongly believed that AMDA could be an importan t tool for that purpose.
During the following years Jorge was invited to AMDA-INTERNATIONAL meetings in Pakistan, Indonesia, Cambodia, Sri Lanka, and Japan. During these meetings he was able to share ideas, suggestions and experiences relevant to the improvement in healthcare and education. Through all these encounters the friendship and respect between Jorge and Dr. Suganami was solidified.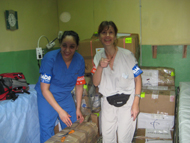 Dr. Foianini´s additional interest in trauma management pressed him to create the nonprofit organization EMGRUP, which subsequently would be changed to AMDA-BOLIVIA. Thus, in 1997 AMDA-INTERNATIONAL approved the creation of AMDA-BOLIVIA and Jorge was named the President of the Chapter.
To make AMDA-BOLIVIA a reality, Jorge worked intensely during four years. First he created the Trauma Committee which was a prerequisite to teach the ATLS® course in Bolivia. He then completed the requirements of the American College of Surgeons and finally the inaugural course was taught in 1998. The implementation of the ATLS® course in Bolivia was a resounding success, and was possible through the significant economical support received from Dr. Suganami through AMDA-INTERNATIONAL.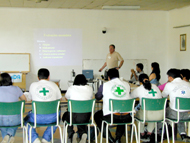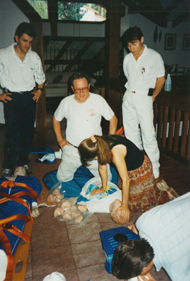 Jorge´s dream inspired him to work diligently to ensure the continuity of the ATLS® program in Bolivia. He traveled to numerous cities around the country to train doctors and paramedics in the care of critical patients. Currently, AMDA-Bolivia is a self-sustained organization and has incorporated three more courses to its program: ACLS, BLS and PHTLS. In addition to sending surgical teams outside of the country assisting in disaster relief programs, it has expanded its activity to health and humanitarian support to regions in need inside Bolivia.
In 2003, in the Sri-Lanka meeting Jorge was nominated as Vice-President of AMDA-INTERNATIONAL. He felt honored by the important responsibility bestowed on him.
The combination of Jorge´s work and Dr. Suganami´s support, together with the quality of the AMDA Program in Bolivia has left a lasting legacy in benefit of our Physicians and the general population.
It has been a privilege and a joy for me to be able to witness and support Jorge in the development of AMDA-Bolivia. For that and the continued support and friendship given by Dr. Suganami and AMDA-International, I will be eternally grateful.
Julia Foianini